Meet Roni, yes THE RONI, the head of our customer service,
the one that oversees and makes sure that all your questions are answered, all your inquiries get replied, that you receive exactly the size and fabric that best suits your needs, and that you receive the best care possible!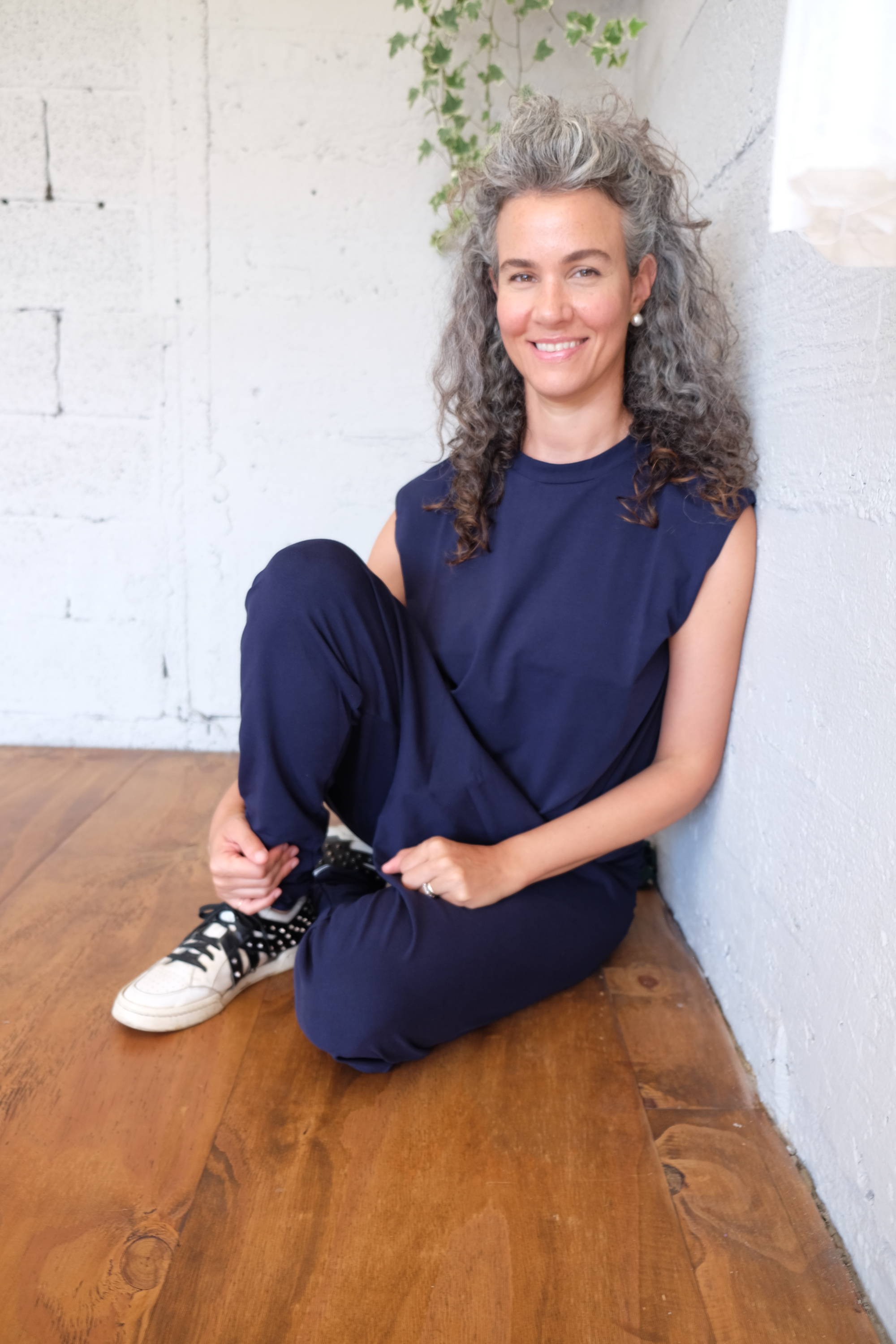 Roni is our Customer Service specialist, she is a 42-year-old mother of 3, and is dedicated to her family both at home and at Ripple to the core!
"I landed here from Los Angeles about 3 years ago barely knowing a soul,"she recalls her beginning at Ripple, "I knew I wanted to work in the fashion industry and looked into some of the top names here in the area. I didn't hear of Ripple before and wasn't familiar with the clothing although the combination of style, chic, and comfort that Adva's lines offers is right up my alley".
Roni met with Adva and was blown away right off the bat,
"I loved the space and the working environment".
There weren't many girls at the studio when Roni started about 2.5 years ago, and while she was destined for customer service from the beginning, in order to learn the ropes from the inside out she began by performing all tasks in the studio.
"After 10 years of working at raising kids, I feel honored to have found a place that is so accepting and supportive! I am part of a healthy team, I feel like I have a responsibility for what takes place at Ripple and i take my relationship with our customers very seriously. It may sound silly, but I feel like Ripple is a little bit 'mine'".
When asked to elaborate, Roni added that the attentive attention we receive from our 'bosses' as individuals, makes us want to give back the same and more!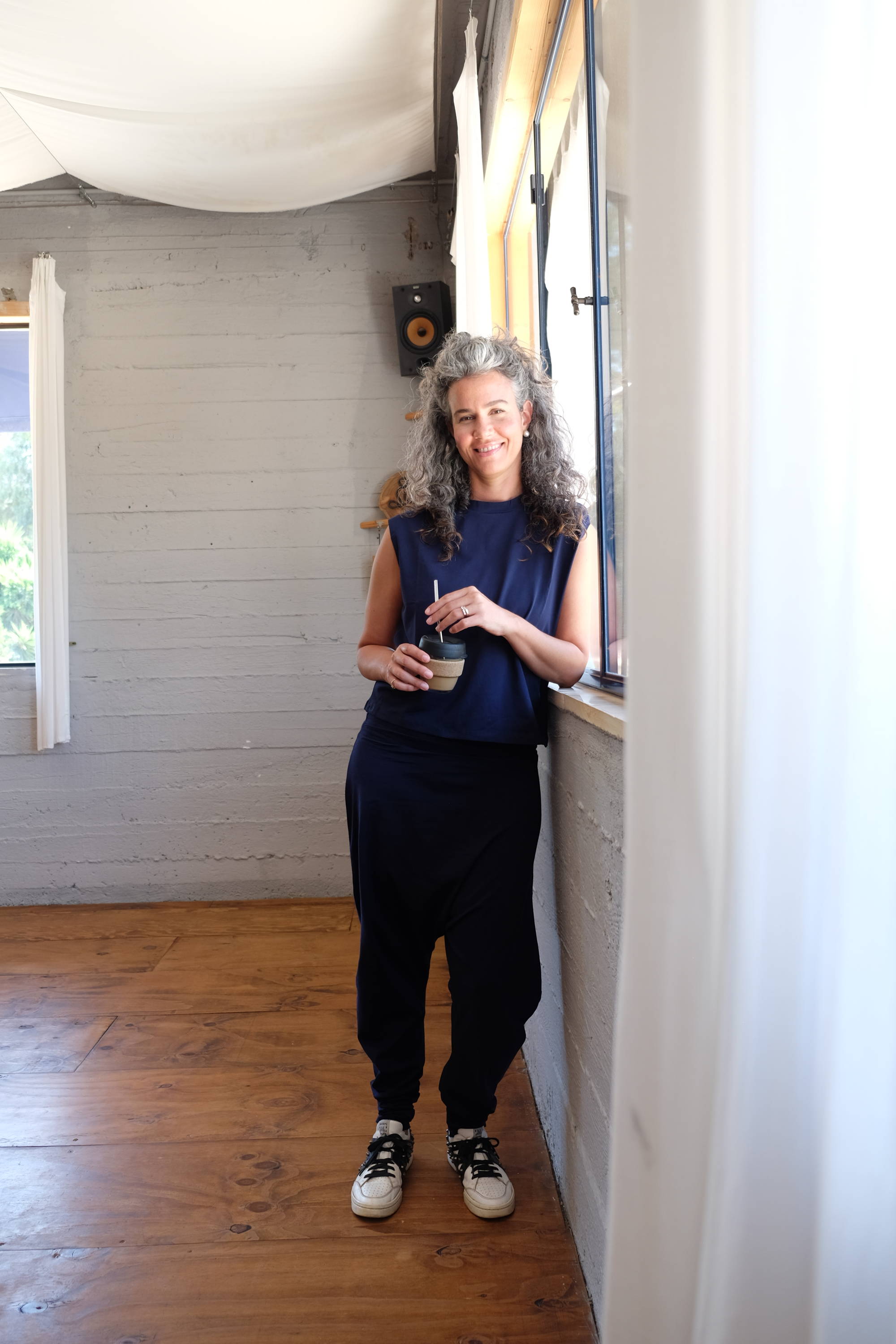 Roni's workday is flexible in order to make up for the time difference between us here in Israel, and you… all over the globe. This also enables her to spend time at home, working non-routine hours "I am grateful for the flexibility I receive here, which enables me, as a mother, to spend important quality time with my kids. I also enjoy the challenge of communicating with our customers in English, and am happy every time a customer is satisfied ."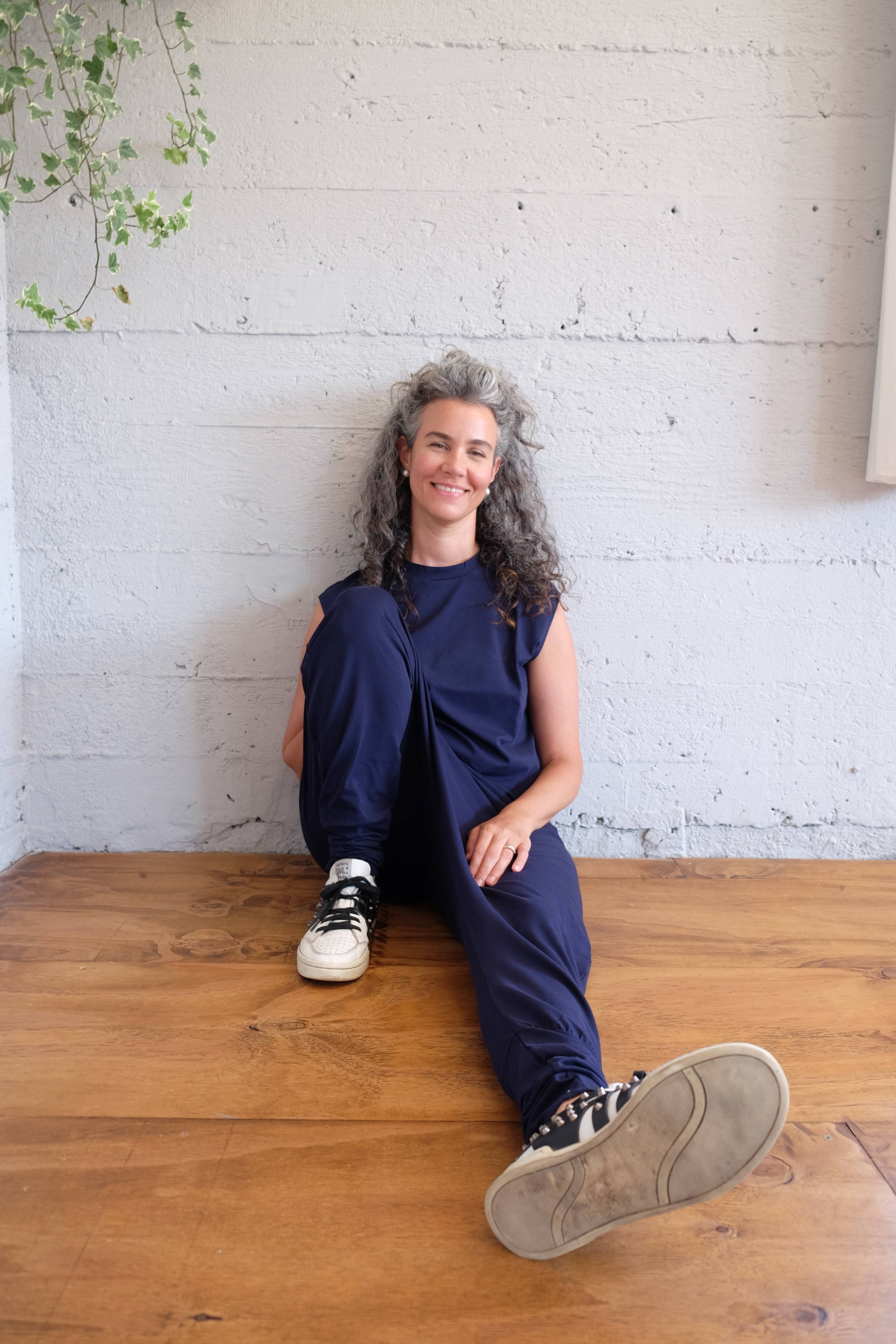 "My closet is full of activewear" Roni adds and laughs, "so I guess it was only natural that I would end up in activewear. But Ripple's clothes are on a completely new level, they are comfortable and practical, I can wear them at home with the kids and out with friends and I always feel dressed in good taste, a sense of fine elegance".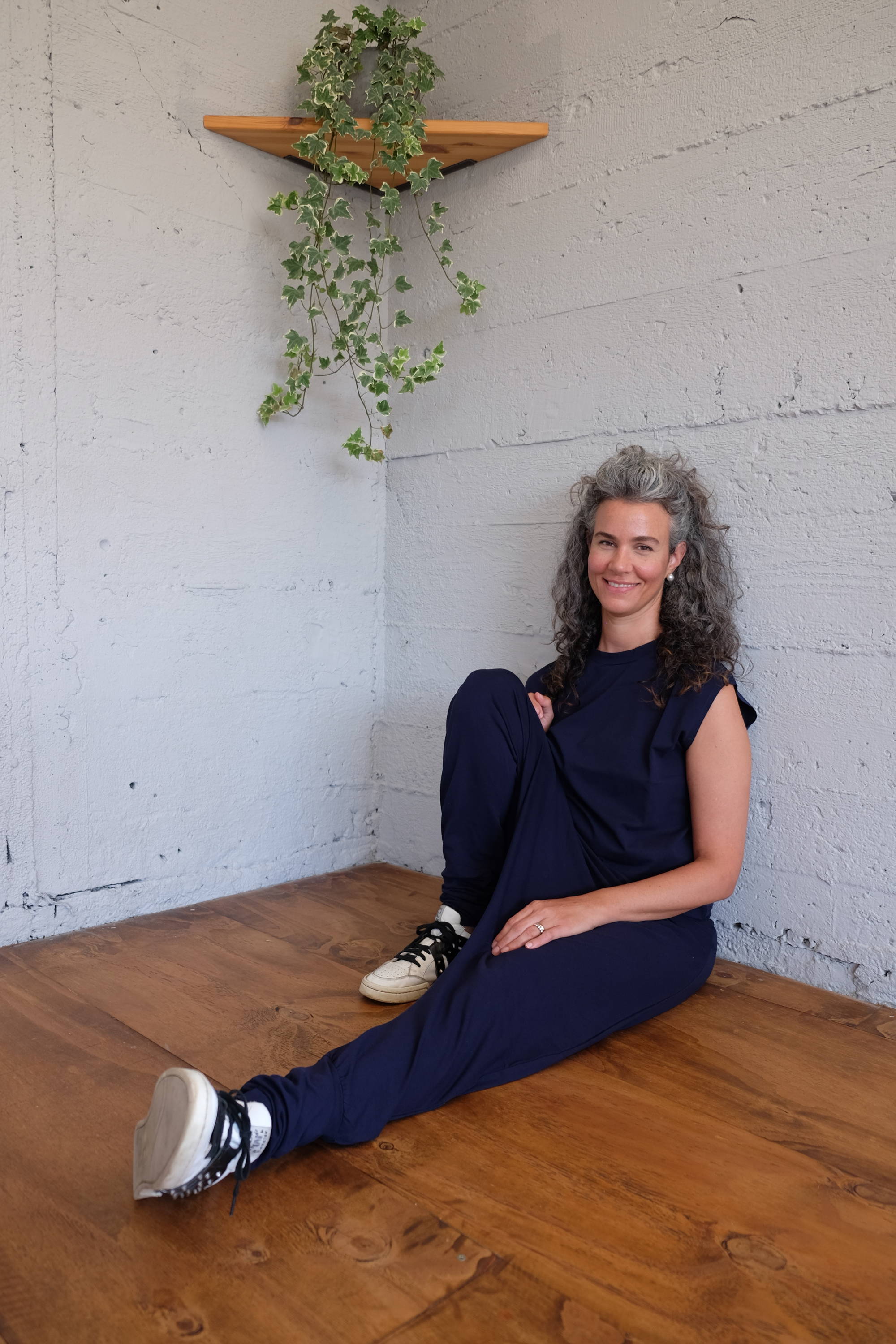 For the photoshoot, Roni chose to wear the Organic Cotton Harem Pants "they are the most comfortable pants in the world! They allow such a wide range of movement that it almost feels like you're wearing nothing at all". To top it off, Roni chose the Organic Cotton Cup Sleeve Top because she loves the style and fit, the cut of the sleeve and its freestyle look, "I like the oversized-look, which is why I chose this top a size above what I usually wear" she adds.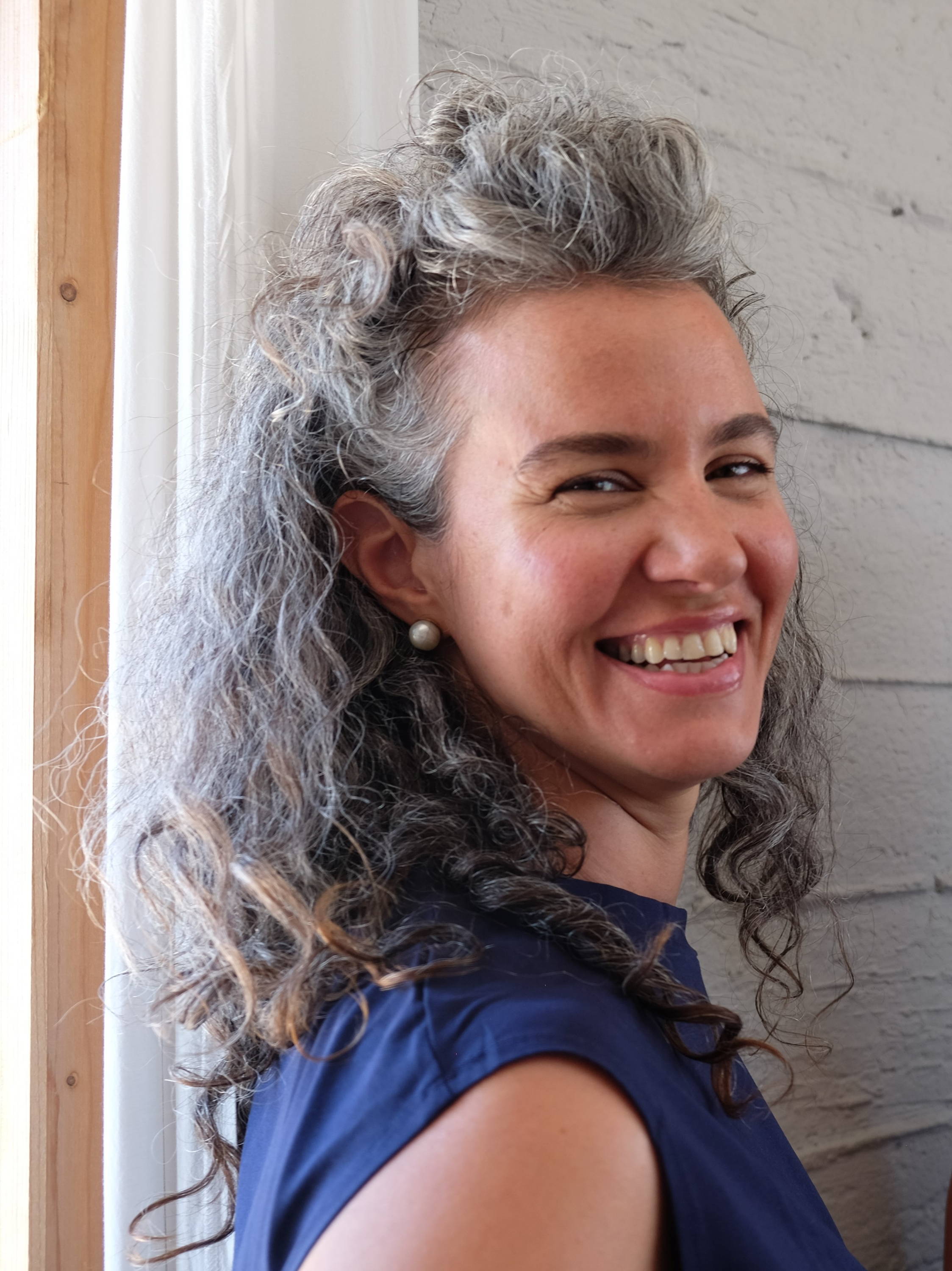 Much of our conversation here at the studio revolves around yoga, sustainability, natural cosmetics, nutrition, the support of small local businesses and more, "the conversation and attention paid to these important topics have raised much of my awareness about the choices I make in my personal life, and while many of these have been a part of my life before, they receive new emphasis and attention since I have started working at Ripple".       
Little speaks more highly of Roni's enthusiasm about working at Ripple than her recruitment of Neomi, for Roni's fervor about the place was addictive and irresistible!
Neomi is a 38-year-old yoga instructor and mother. She came to the studio about 10 months ago after a long maternity leave.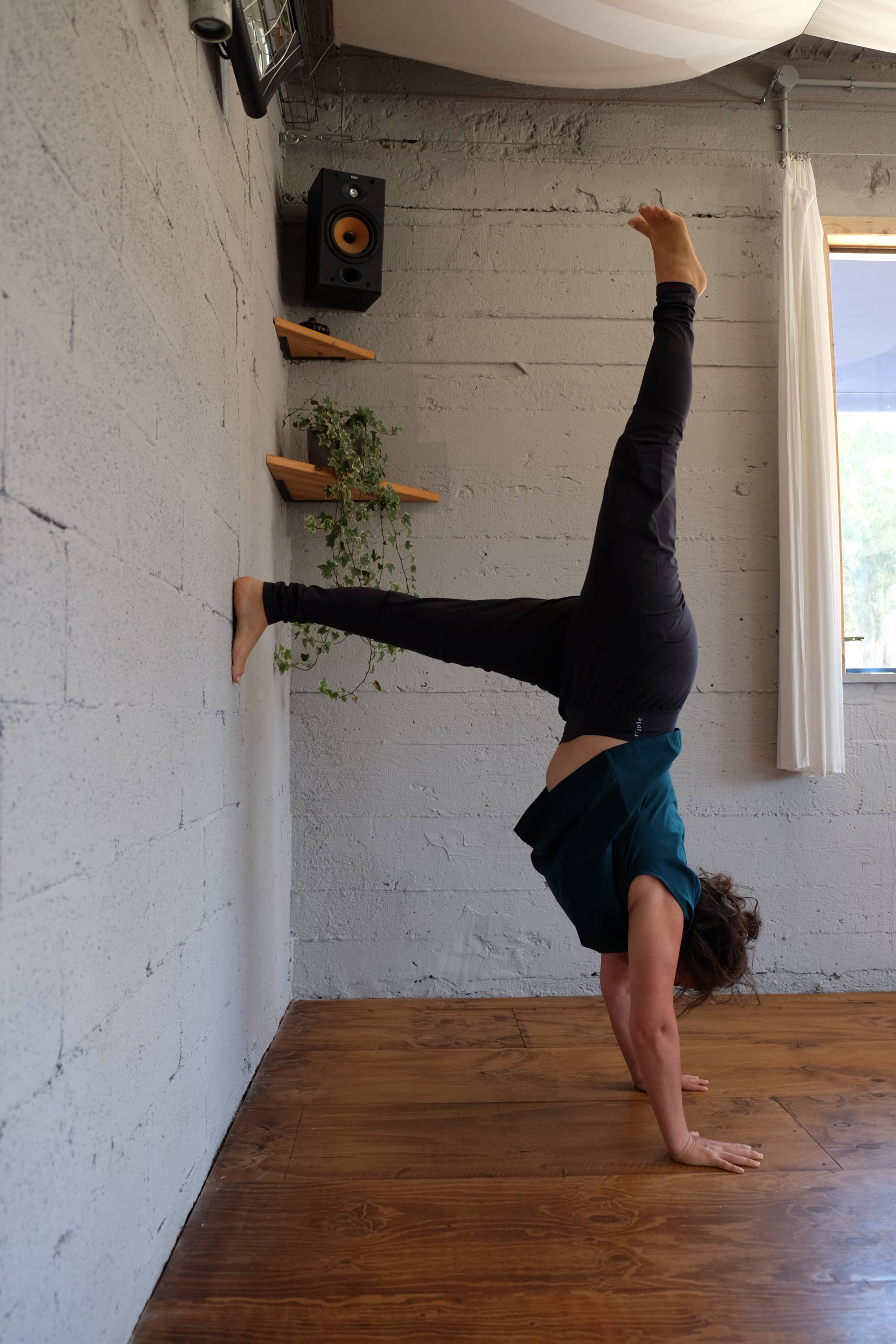 "I was hungry for connection after almost a year at home with my son and was looking for a space that nourishes healthy human interactions. I was looking for a community, for a supportive environment where I can express myself through my work and bring forth my talents. I wanted to be part of a team that understands that the whole is more than the sum of its parts, yet simultaneously sees and makes space for the individual, out of an understanding that it makes for a stronger, more efficient, and healthier whole".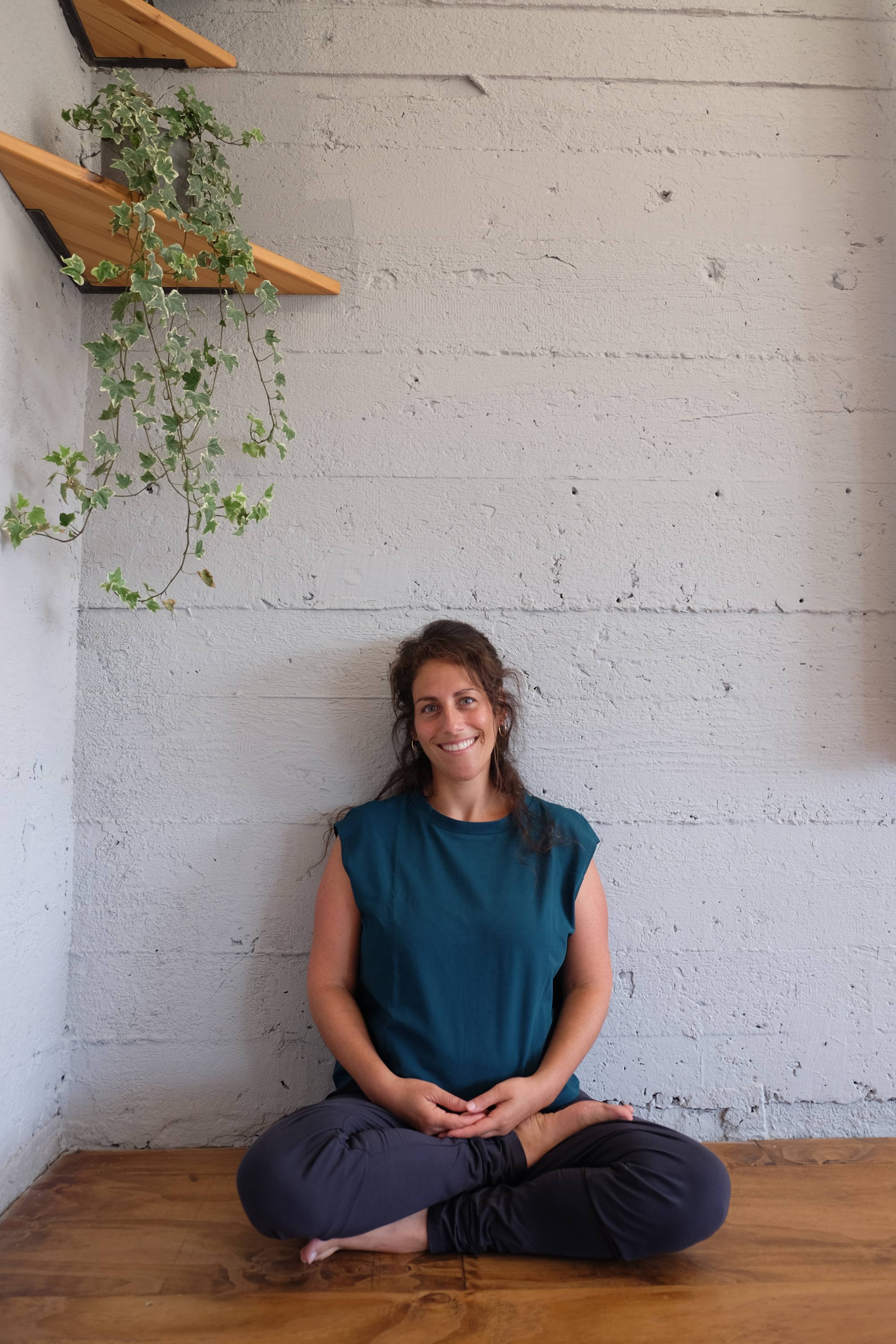 Neomi is our executive content writer, but her hand can also be found in customer service and quality control.
"It is important to me to be in continuous contact with the fabrics and the items, to stay on top of new designs and be a part of brainstorming new projects and collaborations".
When asked about projects, Neomi shared "I agree with support and live by the values and ethics that Ripple represents, which makes it fun and exciting for me to chronicle them to you in new and creative ways! I feel like I have a free hand of expression here and the writing gets my creative juices flowing, and of course, I believe in and love the products we create".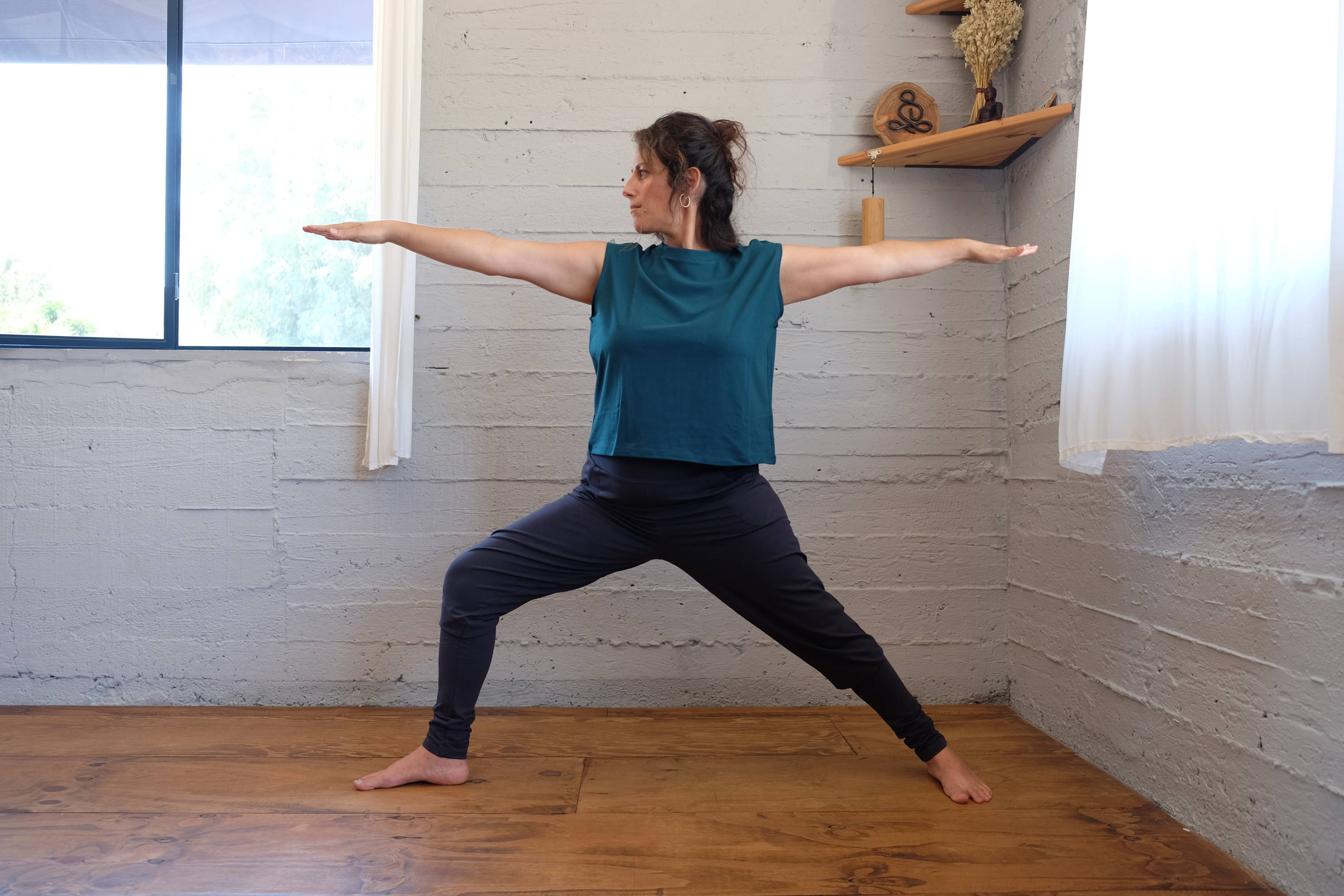 As a yoga instructor and practitioner Neomi understands the specific needs of a specialty yoga garment from the inside out. "It is important for me to have a garment that supports my practice! Something that requires minimum adjusting and will allow maximum movement. Something that is natural so that my skin can breathe through the fabric, and it is just as important that I will feel good wearing it. Ripple's clothing is all of this and more".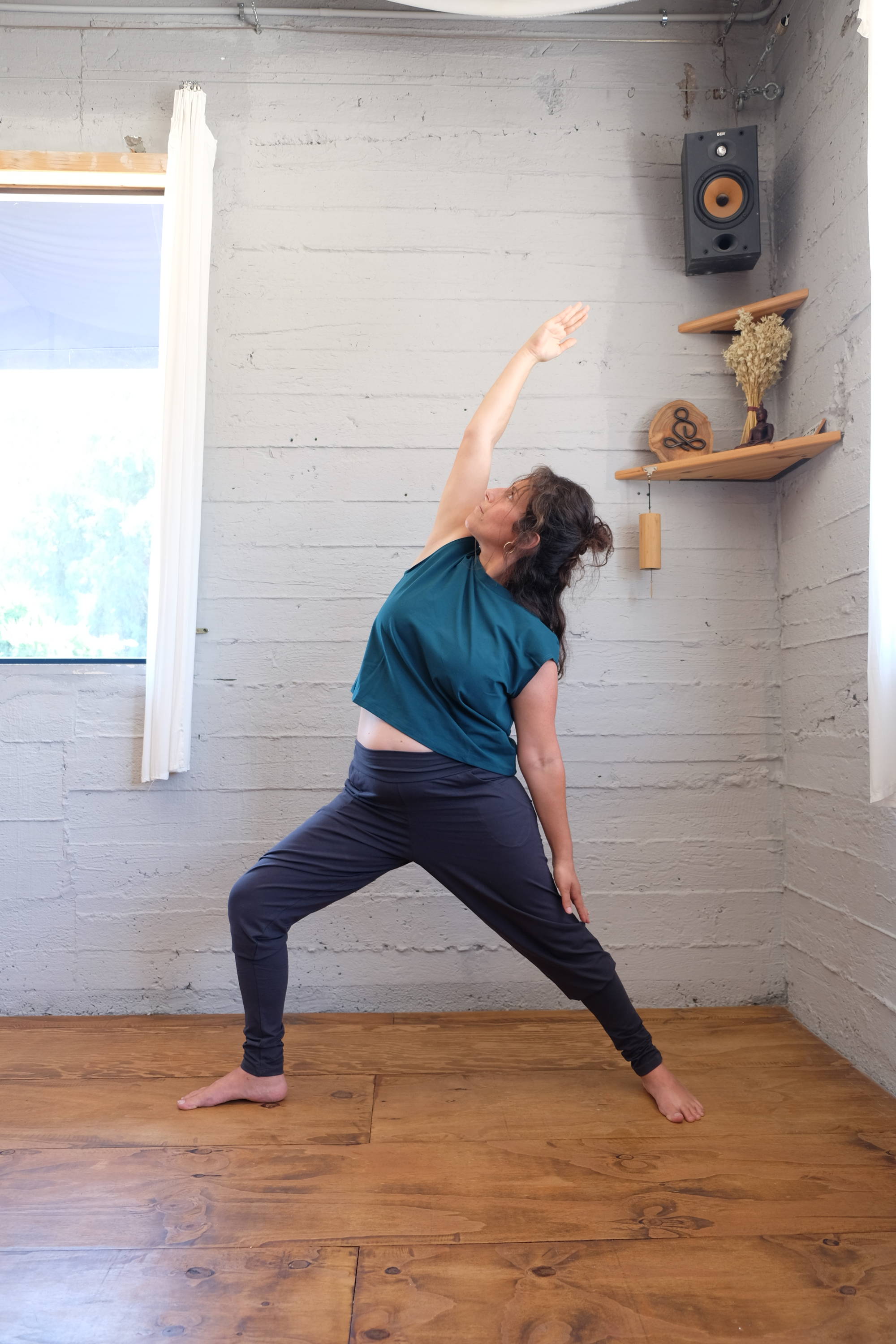 For the photoshoot, Neomi chose to wear the Organic Cotton Cup Sleeve Top with our Organic Cotton Extra Long Slouchy Pants.
"I like the shape and style of this specific top, being large-chested I sometimes struggle to find shirts just the right length and the Organic Cotton Cup Sleeve Top makes me feel both stylish and enables me to move freely. Of course, I chose the Organic Cotton Extra Long Slouchy Pants, which I love and have become my go-to pants! Their wide waistband allows me to play with the fit, moving them up and down on my torso to my liking. While the extra fabric at the bottom allows me to crunch them up or pull them over my feet for cold morning practices."
We asked Neomi to add a few words on how her personal life has been influenced by her arrival at Ripple, and her response reminded us how much inspiration this place nourishes "there is much talk about travel, courses, continuing education, creativity, and self-care to name a few, as a mother, I sometimes fall into a mind-trap where I forget that there is a whole world of beauty, creation, and self-development outside of my own personal daily routine. The supportive and encouraging conversations at the studio remind me that I can do anything and everything, and blow a breeze of wind underneath my wings, and once again I am excited to face the world and bring forth my honest self".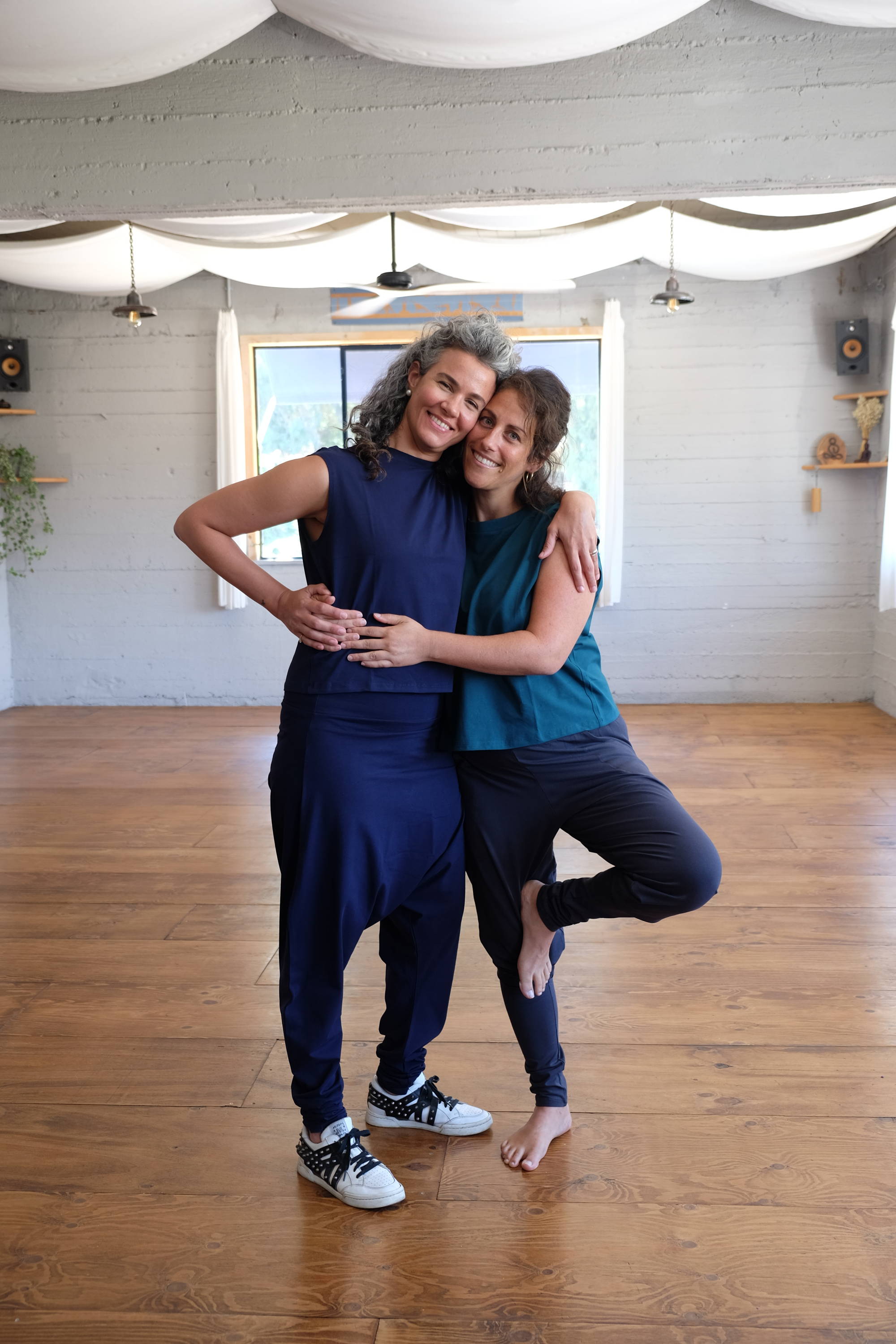 When we receive feedback from customers, Roni replies by thanking them for their comments, and shares that we do our best to learn and improve as a company. Ripple helps us grow, learn and improve as individuals as well.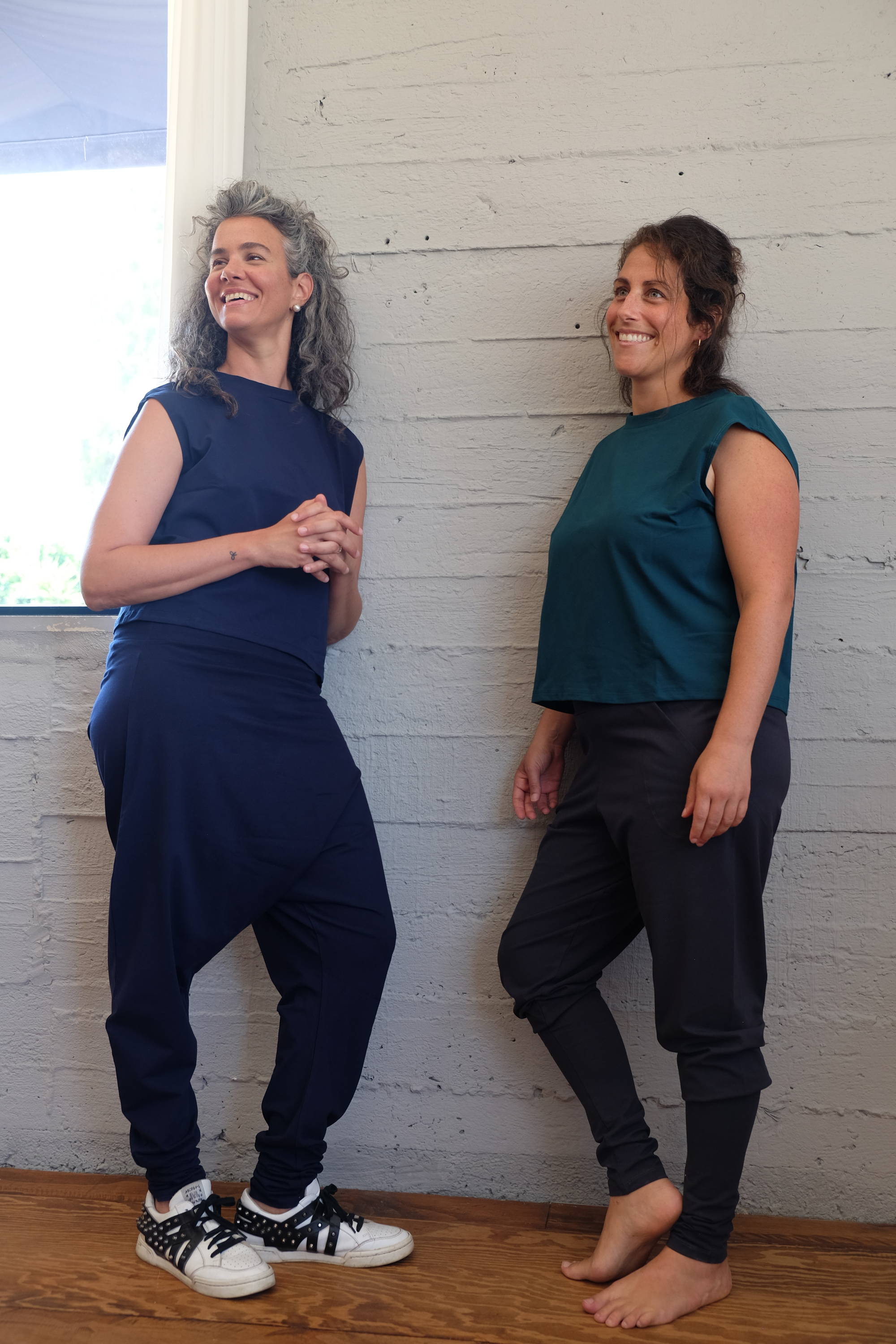 Stay tuned for more of the Ripple Team