As part of our latest Wear Your Feelings venture, we are thrilled to introduce to you the women who bravely wore their feelings on our last photoshoot day.
Here is one of our own:  
Carmit Josman
39 years old
Ripple's Director of Marketing
Mother of 2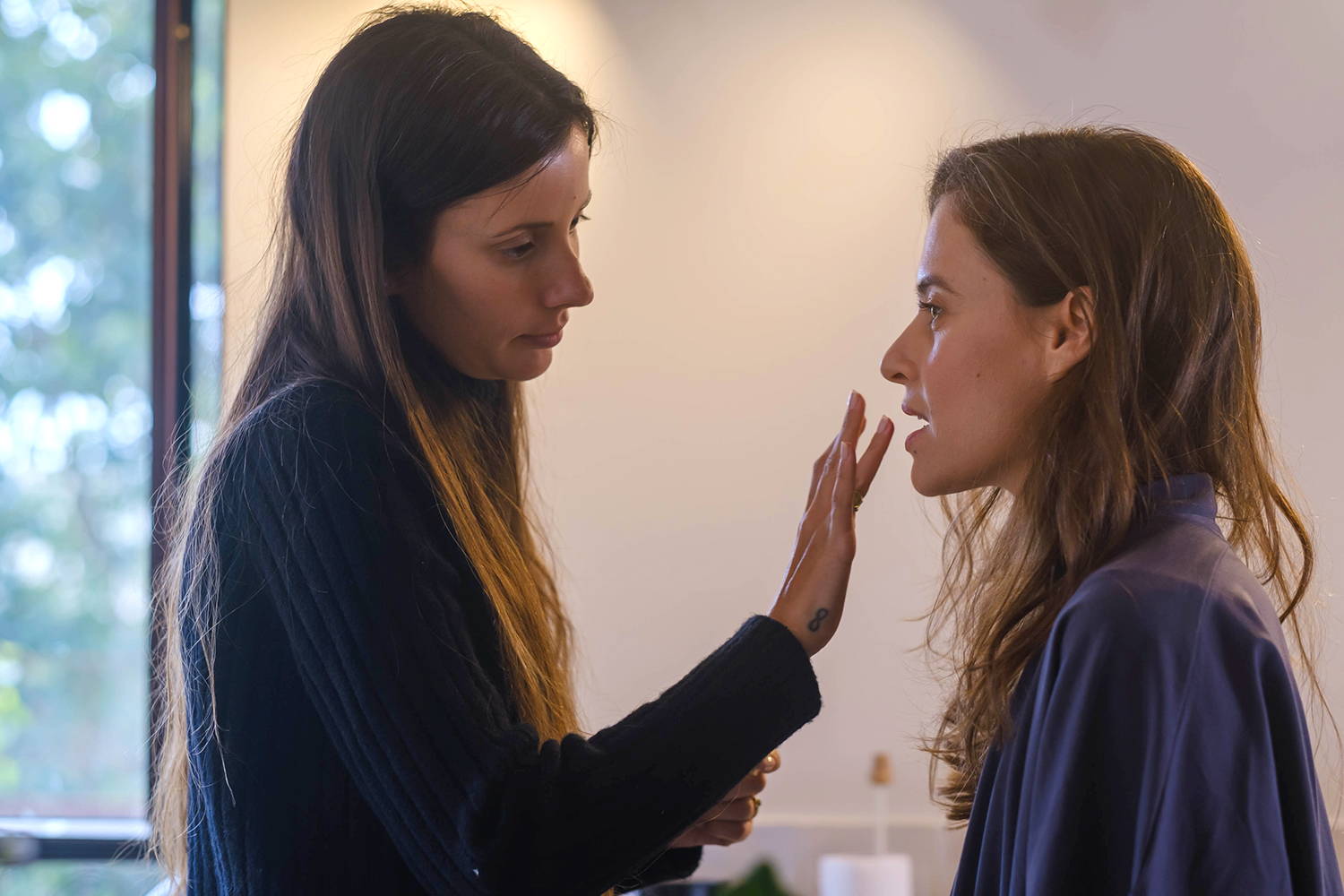 Q- How did you feel throughout the day?
A- Initially, being on both the production and modeling sides of the photoshoot didn't leave me much time to stress about being photographed, it allowed me a distraction from being present in the moment. It did ignite a dialogue with the internal critic, for, as a Marketing Director, I know what I am looking for in the finished product. My first set of photos was somewhat awkward, I tried breathing into the discomfort, attempting to relax my gaze, soften my facial expression and not come across tense, although I was.
Q- Stepping on the mat for your second set, how did you summon your inner anchors and manage to relax and connect to your center?
A- The yoga mat - that is where I felt most at home within all the flickering lights and camera clicks. In all honesty, I myself was surprised to see how on the mat I succeeded in allowing myself to move freely, shaking off any expectation to be one way or another, not exaggerating poses for the camera, not allowing the photoshoot to distract my inner peace.
Q- You are intimately familiar with Ripple's clothing, how did you feel in the new items?
A-There is a common thread that runs through all of Ripple's items, old and new - the allowance to simply be. I was taken back by how this is evident in the new items just as much as in our classics.
Looking at the pictures, I see how free I felt to move. I wasn't preoccupied with the clothing in real time, on and off the mat, my body felt good, supported, caressed, and my mind was free to process my experience.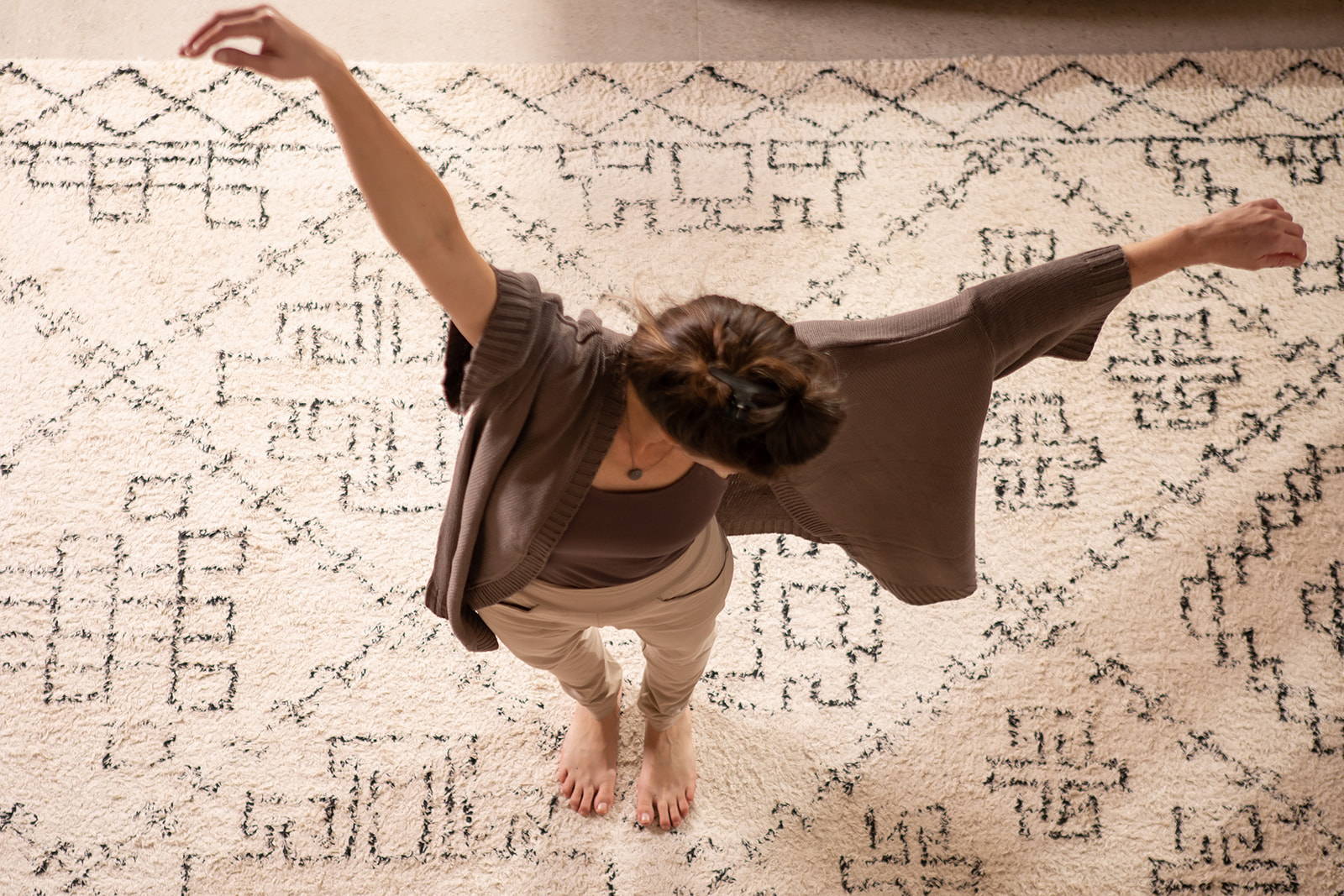 Q- What do you take with you from this experience?
A- I came home that day on cloud-9, proud of myself for the beautiful synergy that we created, for stepping outside of my comfort zone, challenging myself and daring to allow myself to be seen as authentically and honestly as I could at any given moment. For, at the end of it all, if we are not present in the moment, we miss it.
Q- About a week after the photoday you got a first glimpse at the fruits of your labor, how did this make you feel?
A-Seeing my own photos, I was swept into a dialogue with theinternal criticuntil I made a consciousdecision to STOP my wandering mind and accept what is! The pictures captured exactly what was, some frames I like more and some less, but here are photos that authentically display a moment in time - and, on the content side of things - this is exactly what I am looking for - the same way that our clothing doesn't cover up or hide, but simply, cleanly, unapologetically narrates the story of us.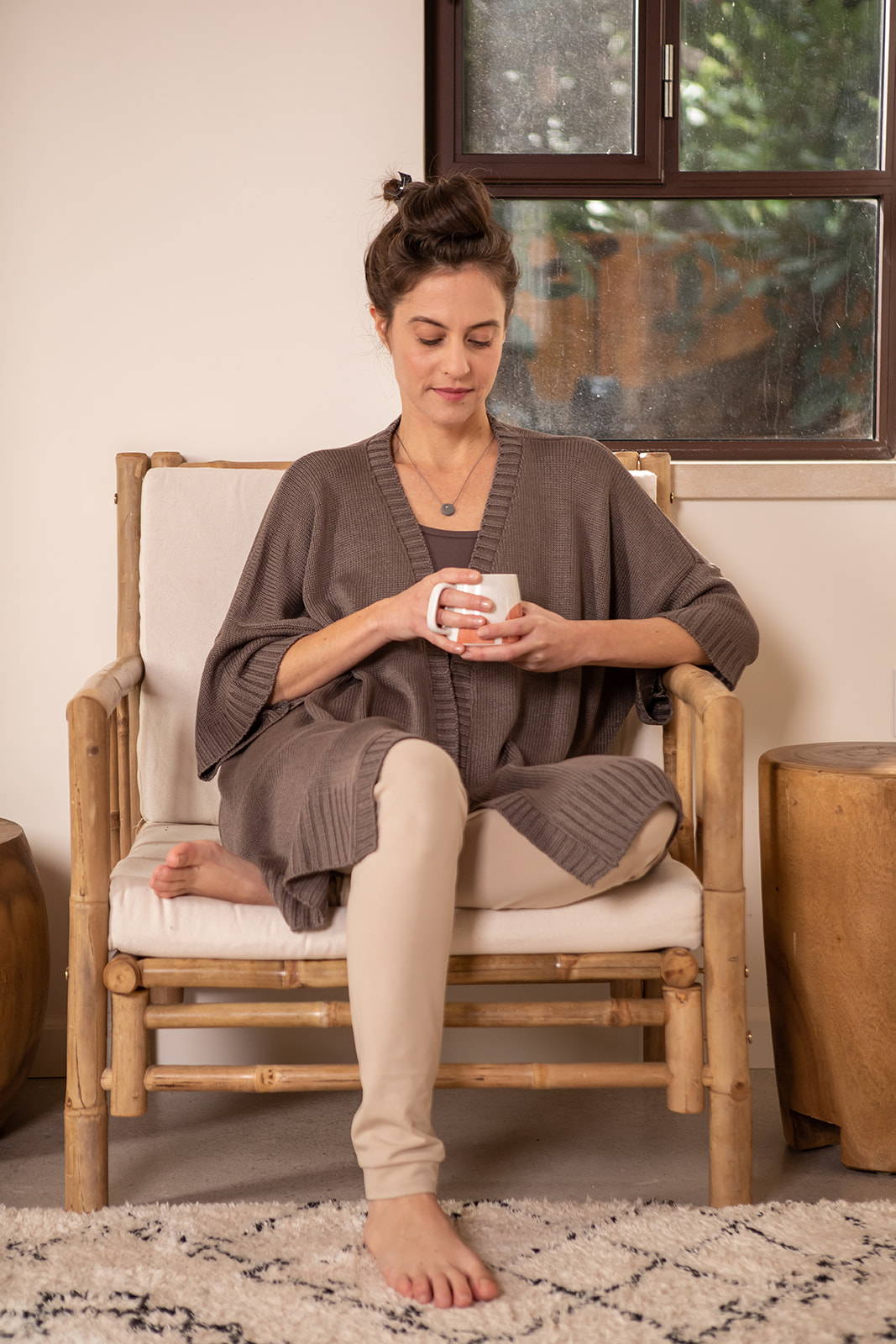 Q- Would you do it again?
A- I would like to do it again, but next time I want to focus more on the experience of being photographed, letting someone else take care of all the rest. It felt good to be in the spotlight, other than the makeup, I learned to love myself with less makeup on, more naturally".
Q- Managing the project and modeling in it, you wore numerous hats throughout the process, in which did you feel most comfortable?
A- My role as a coordinator behind the scenes came more naturally to me than being the jewel of attention. That's how I live my life, as a mother, a partner, a Marketing Director. I am used to doing numerous things at once, taking care of everyone's needs and desires.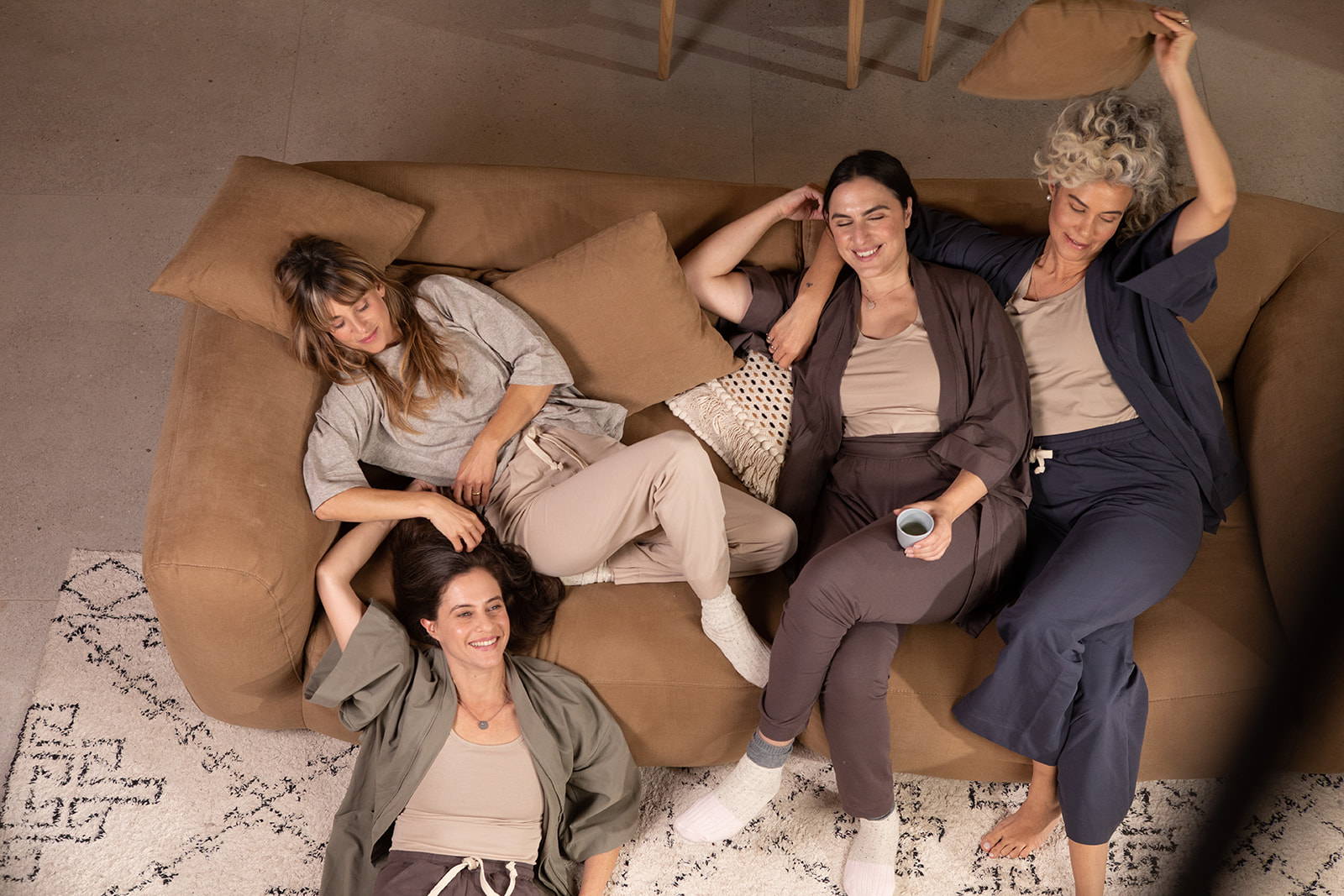 Today, I attempt to meet this place from an understanding that this way of being is a part of who I am, and that I ultimately enjoy this role and am nourished by it.
I try to release expectations, because ultimately, it is between me, myself and I, and I can play with the dosage of how much of me I invest where and how.  
Q- What is yoga for you? 
A- Yoga is my first connection with spirituality, it is a mirror reflectionof my state of being. It allows me to break through the glass ceilings that I place for myself and intimately meet myself and my physical body.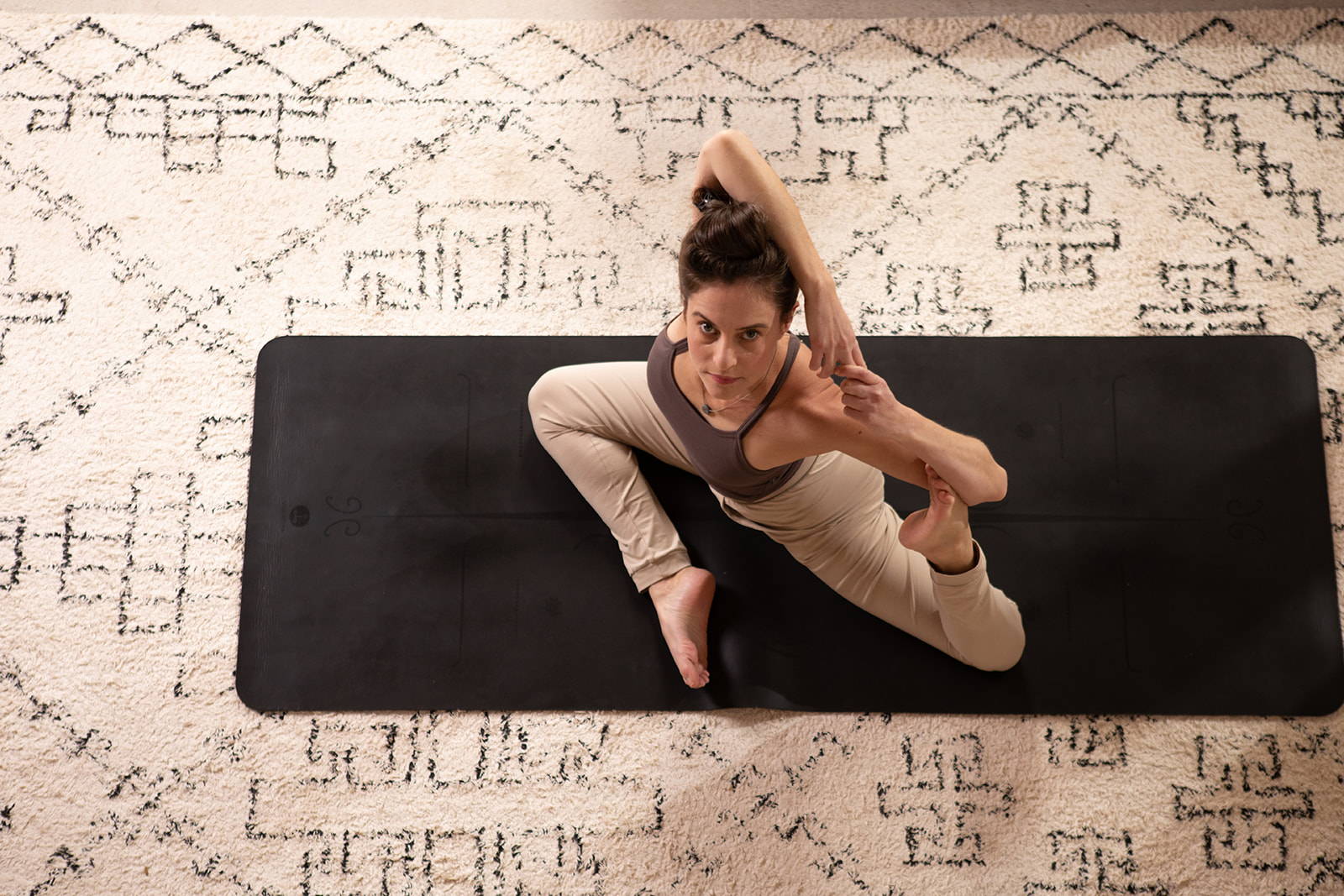 Q- What are your go-to practice outfits?
A- In the winter I like to practice in Ripple's long jumpsuit, or the Stone Wash Extra Long Slouchy Pants with the Criss Cross Tank Top. In the summer I love our Slouchy Yoga Shorts. I like it when the items are on the body, not too tight, but not too loose.
Q- Is there something else you would like to share?
A- I learned that things are in constant movement and that the process of development and growth flows through a spectrum of feelings and emotions. I am learning to be more present in the uncomfortable moments just as in the joyous ones.I strive to continue doing things that excite and challenge me, and to unapologetically enjoy myself!
Dive in and wear your feelingswith us.